Ramoji film city Car Rentals - Taxi Cab Hire in Ramoji Film City
Car rental from hyderabad to ramoji film city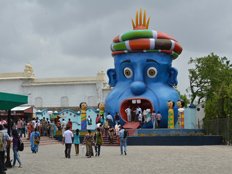 Ramoji Film City: Hyderabad (RFC) is the world's largest integrated film studio complex at over 2,000 acres of land. It is also a popular tourism and recreation centre, containing both natural and artificial attractions. It is situated on Hyderabad - Vijayawada, highway, about 25 km from Hyderabad. A Japanese garden, the ETV planet (a multi-purpose editing suit), a pool, artificial waterfalls, breathtakingly accurate airport terminal, hospital set, railway station, churches, mosques and temples, shopping plazas, palace interiors, chateaus, rural complexes, urban dwellings, and a winding highway are some other places for tourists to visit. For shopping you have, some nice handicrafts, pottery & decorative articles to purchase.
Are you Looking for car rental for your upcoming trip in Ramoji Film City? Whether its a business trip, casual trip or family holiday to Ramoji Film City, we have wide variety of cheap car rentals in all shapes and sizes like innova, indica, tempo traveller or bus rental. Cyber cabs offers car rental services to Ramoji Film City that best suits your needs at the cheapest prices with latest offers.
Car Hire Offers and Car Rentals in Ramoji Film City, now you can book full day taxi Ramoji Film City, airport transfer, Railway Transfer in Ramoji Film City. Here you will find a reliable Ramoji Film City based car rental company for Your all car hire needs. You can also book car tour packages to nearby or outstation travel destinations from Ramoji Film City or book cab for Ramoji Film City city tour.
Some of the Popular Car Rentals Booking in Ramoji Film City
Ramoji Film City city tour (full day and half day)
Domestic and International Airport transfer from Ramoji Film City
Railway Station transfer from Ramoji Film City
Ramoji Film City Bus Station pick up and drop
Ramoji Film City outstation car booking with driver
Car Hire for Marriage (Wedding) Ceremony in Ramoji Film City
Car on Rent (with driver)
Call Us Now on +91-9246551381 For Special Offers on Hotels & Tours Package 2 Nights & 3 Days tour starts from Rs. 7500 onwards. Includes Hotel Accomodation, Daily Breakfast, Full Day Hyderabad City Tour, Ramoji Film City Tour, in Indica Car.
See all the above Hyderabad historical monuments, parks, lakes, hyderabad attractions & sightseeing only with RentACarsHyderabad.com Daily City Tours.

Click Here For Reservations/Enquiry and Price Quote
For Booking: +91 9246551381, +91 9030051381 or Email Us
Are You Looking Ramoji film city Car Rentals in Hyderabad